Hi everyone, Anna here!
Well, it's Marianne's week to post, but she's a little busy moving to another country... seriously. She and her family are moving from Australia to the United States.
Can you imagine the stress of that? I mean, moving is hard enough, but trying to coordinate everything when you're almost 10,000 miles away? And somehow, up until the very last minute she was writing. She was still supporting all of us and chatting until it was go time. Right now, she's probably close, if not already, on American soil.
So in lieu of her post, we're all taking over and trying to be entertaining. Thus far, I'm failing miserably. I found
this
on Buzzfeed, and laughed... maybe you will too. Marianne, probably not so much. Because she's really going to have to learn all that shit.
Anyways, like Megan said in an earlier post, we each have our own little traits, and one of Marianne's is her ability to make friends. She's been a huge part in me meeting people and getting interviews and connecting with bloggers. An ability to network is something she excels at tremendously, and I take tips from her all the time. And she's good at it. Really good. Just look at her social media pages and you'll see what I'm talking about. She's a rock star, and I can't wait for everyone to read her book.
Megan here! Bwahahahahahaha as a Brit, that link is hilarious, Anna. What the hell is white gravy? OMG, that's just....Wrong.
Anyway, Anna's right. She normally is, but don't tell her. Marianne can make friends anywhere. I think we need to take bets on how many people she befriended on her travels Stateside.
What else can we tell you about Marianne? Well she's as funny as fuck and ohhhh so quick with it. I'm sure the girls will vouch for this, because you can be sat at your computer writing and that little message thing will start flashing at the top to let you know you have messages on FB. So you log on and get the most random messages from her containing links to anything ranging from the sweet and innocent to the downright dirty. You literally have tears rolling down your face from laughing so much, your own family looks at you like you have completely gone mad. Which goes without saying really, we are after all writers. For instance the day before she left she sent me this...DO NOT CLICK THIS LINK IF YOU ARE NOT 18 OR EASILY OFFENDED
LINK - You have been warned
With a message which stated 'I guess rowing is more exciting than I ever imagined.'
As I've gone off on a tangent, which I normally do, I'll pass you over to Kelly...
I love that link, Anna. Marianne was very concerned that all US money looks the same. I didn't understand what the big deal was, but then she showed me a pic of Australian money.

To save yourself from looking it up, just picture Monopoly money.
I love your pic too, Megan. I guess I'd also be really excited if I won.
Here's my fun with the US and Australia links. And I'm not cool enough to make them say something different. Sorry.
I'll bet one of the first things she buys is Pop Rocks. Or a Butterfinger. Or a cinnamon roll. Slim Jims are nasty though, so I hope she don't get that.
I one hundred percent agree with what Anna and Megan said about Marianne, but I have something else to add. One of my favorite things about Marianne is how she has a genuine desire share things she learned and help us all out.

She's constantly giving us links to information sites she found, giving us quotes from books, and trying to get us as smart about social media as she is. She's a great friend and will do anything she can to help us out, and I'm SO EXCITED that I am going to have her in my time zone!
We all love you Marianne!

We hope that you are having a safe trip and can't wait until you're settled in and over that terrible jetlag so we can have you back!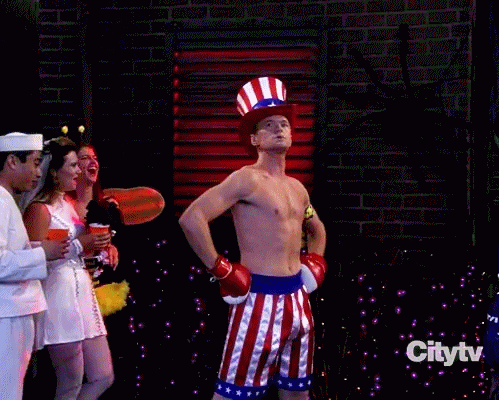 from
http://giphy.com/gifs/how-i-met-your-mother-america-MzIGJbgcDFLgY